PADI Reactivate/Refresher Course
Update your dive skills and knowledge with a quick scuba refresher from the PADI Open Water Diver Course before jumping back into the water.
Starting from
Availability: Contact us for booking information
Course Requirements:
Must be at least 10 years old
Must be in good health and comfortable in the water
Must be a certified diver
Designed for the diver who wishes to return to scuba diving after a period of inactivity
Bring your certification card to the first-class meeting
Materials and Equipment Needed:
Materials Needed:
PADI Reactivate eLearning
Logbook
PADI Dive Tables
Equipment Needed:
You will need to bring, or purchase, your own mask, Snorkel, Fins, Boots, and Mask scrub and defog solution for the course.
The rental equipment is included for your pool session, which consists of an exposure suit, buoyancy compensator, regulator, gauges, cylinder, weights, and weight system. If you have your own scuba equipment, please bring it in for evaluation, and/or service, prior to your pool session.
Course Scheduling:
Getting recertified is simple as one, two, three!
Step One:
Orientation: To start, give us a call, so our staff can plan spending about two hours with you. During that time, we will go over course logistics, paperwork, equipment fitting and equipment purchases.
Classroom: During the one classroom session, we will cover important topics like Safety Concepts, a reminder on how to use the RDP Tables and review equipment assembly.
Step Two:
Pool: At the pool sessions, we will review your basic skills scuba skills. If there are particular skills you want to concentrate on, we can spend more time on them.
Step Three:
Open Water Dives: You have the option of completing an open water dive either in the Gulf or at a Spring. There is an additional charge. Upon successful completion, you will be awarded the PADI Reactivate Diver certification. Your Instructor may adjust the schedule according to weather and conditions.
Course Fees:
Standard Course:
Call for our most current pricing!
To Start Your eLearning Today, Just Click on the Image Below.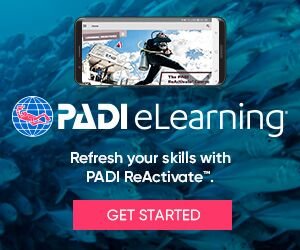 0 reviews for PADI Reactivate/Refresher Course